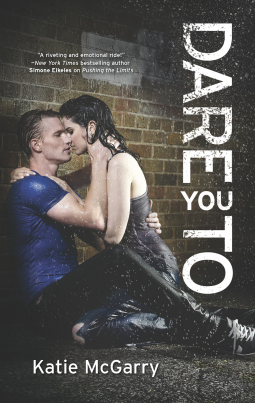 Author: Katie McGarry
Pages: Hardcover, 462
Publisher: Harlequin Teen
Release Date: May 28th 2013

Synposis from Goodreads:
Ryan lowers his lips to my ear. "Dance with me, Beth."
"No." I whisper the reply. I hate him and I hate myself for wanting him to touch me again....
"I dare you..."

If anyone knew the truth about Beth Risk's home life, they'd send her mother to jail and seventeen-year-old Beth who knows where. So she protects her mom at all costs. Until the day her uncle swoops in and forces Beth to choose between her mom's freedom and her own happiness. That's how Beth finds herself living with an aunt who doesn't want her and going to a school that doesn't understand her. At all. Except for the one guy who shouldn't get her, but does....

Ryan Stone is the town golden boy, a popular baseball star jock-with secrets he can't tell anyone. Not even the friends he shares everything with, including the constant dares to do crazy things. The craziest? Asking out the Skater girl who couldn't be less interested in him.

But what begins as a dare becomes an intense attraction neither Ryan nor Beth expected. Suddenly, the boy with the flawless image risks his dreams-and his life-for the girl he loves, and the girl who won't let anyone get too close is daring herself to want it all....
About the Author
( from Goodreads)
KATIE MCGARRY was a teenager during the age of grunge and boy bands and remembers those years as the best and worst of her life. She is a lover of music, happy endings, and reality television, and is a secret University of Kentucky basketball fan.
Katie would love to hear from her readers. Contact her via her website, katielmcgarry.com, follow her on Twitter @KatieMcGarry, or become a fan on Facebook and Goodreads..
---
Where
to start on my thought about DARE YOU TO. Well let me say this first it was a great read. It kept me entranced and I fell in love right along side with Beth and Ryan.
I read the first book of this series call "Pushing The Limits." Which was an amazing read as well ( Love me some Noah! :D) Anyhow,DARE YOU TO is about one of the characters that appears in Pushing The Limits. That is Beth Risk who is good friends with Noah from Pushing The Limits.
Beth Risk has a hard life full of drug use, whoredom, Abused by her mother boyfriend, among other troubles she finds herself coming to live with her Uncle she thought left her to fend for herself.
Prior to living with her uncle she meet this dreamy blond haired stranger through a Dare. As He was Dare by his friends to get her number. She blew him off. Just her luck when she goes to live with her uncle that same dreamy boy, Ryan, has volunteer to help show her around. Little did each party know they end up using each other to get what they thought they wanted. As it goes through the story they slowly start to realize the other person isn't who they seem to be. Maybe just maybe they are a little more then what is seen on the outside. Once they start to love and trust each other something happens to test their love.
I really enjoy the way Katie McGarry writes her stories. DARE YOU TO (as well as Pushing the Limits) are told in two POV. It switch back and forth between Ryan and Beth. I enjoy this because we get to see what the guys is thinking. I for one read a lot of books with the main POV is in a girls perspective which I like because I can relate more to the character but I always like reading how the guys feel towards the main girl. It really helps me crush more on the guys! Speaking of crushes, I have yet another book crush :D Ryan is a dream boat. Baseball all-star, blond hair, dreamy brown eyes and a smile that can melt heart. What is not to love about that! He is kind of a jerk at first to Beth but once he opens up he shows that he is a kind and sensitive guy.I really enjoy the little switch up with virginity, with many stories I have read it's always the girls who are the virgins and not the guys. I guess guy get around more usually..lol..I enjoyed see that guys to can also be virgins and wait for a girl they love. I really love when characters (especially the guys) call it making love and not the F word. It's much more romantic and show the true nature of their love. I simply loved the ending ( endings, especially happy ones, are always my favorite part of books. I usually cheat and read the ending before I start a book :D ) One of my favorite quotes happens towards the end. All in all I really enjoyed DARE YOU TO.
I would recommend this book to teen and adults who like YA (romance, high school drama)I give DARE YOU TO 4.5 Stars!( I really liked Dare You To but I think I enjoyed Pushing The Limits by Katie McGarry just a little more- I'm more of a Noah fan. Although Ryan is still dreamy in my book :D ) *A Must Read!*
Favorite Quote
~"Kiss me. Not just a peck. The real deal."
Ryan glances around at the bleachers full of hundreds of people "Excuse me?"
"I, Beth Risk, do double dog dare you to kiss me in front of all these people."~
I want to thank Netgalley for providing a ARC of "Dare You To"! I'm happy I have the chance to review it! I also want to thank Katie for writing such an Amazing book and keeping a good series going. Lastly as always I want to Thank anyone who read this! It means a lot that you would take the time to read my review!
XOXO Brenna