Click the picture to view other WoW
"Waiting On" Wednesday is a weekly event,by Breaking the spine, that spotlights upcoming releases that we're eagerly anticipating.
This week's pre-publication "can't-wait-to-read" selection is for me is:
Through the Zombie Glass by Gena Showalter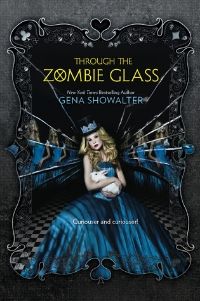 Author: Gena Showalter

Publisher: Harlequin Teen

Pages: Hardcover, 304 Publication date: September 24th 2013
Synopsis from Goodreads:
Inspired by the childhood classic Alice in Wonderland, this harrowing and romantic story features teen zombie slayer Alice Bell who has lost so m

uch—family, friends, her home. After a strange new zombie attack, Alice fears she may be losing her mind as well. A terrible darkness blooms inside her, urging her to do wicked things. The whispers of the dead assault her ears and mirrors seem to come frighteningly to life. She's never needed her team of zombie slayers more—including her boyfriend, Cole—than she does now. But as Cole strangely withdraws and the zombies gain new strength, Ali knows one false step may doom them all.
I really enjoyed the first book of the White Rabbit Chronicles series "Alice In Zombieland" was a really good read. I loved the twist on how zombie's were betrayed in the story. Instead of everyone seeing them only a select few knew about them or could actually see them. If you have yet to read Alice in Zombieland I would suggest you add it to your TBR list :D Gena Showalter is one of my favorite authors! I hope you enjoyed my WoW I would love to know yours..Leave a comment below and tell me your WoW :D As always thanks for stopping at my blog.(I also want to give a shout out to my mama on her birthday today! in the wise word of Wreck it Ralph " I love my Mama!" Happy Birthday Mom!) xo Brenna.