Title: SHATTERED SOUL
Author: Jennifer Snyder
Mature Young Adult novel
Ready for this intense blurb?
Hellish Nightmare.
If Seth Bradson were to describe his life, those would be the two words he would choose. Preferring to cope with his crappy existence and horrible home life by spending his days in a drug-induced haze, Seth coasts through life. Until the moment his path crosses with Ali Carson. In her, Seth finds something he's been subconsciously seeking—a new drug, one that consumes his mind unlike any other.
But when Seth finds himself in a situation he could have never foreseen, and foolishly allows Ali to try his most addictive temptation—crystal meth—the unraveling of both their lives occurs before his very eyes, forcing Seth to learn the definition of the word regret the hard way.
Are you dying to read this one yet? Here's some great news then, Shattered Soul will be discounted to .99 for a limited time on Amazon and B&N!
Here is the stunning cover redo for this gritty novel: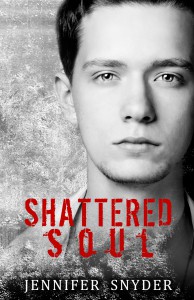 Awesome, right? It was designed by Once Upon A Time Covers.
About The Author
Jennifer Snyder lives in North Carolina were she spends most of her time writing new adult and young adult fiction, reading, and struggling to stay on top of housework. She is a tea lover with an obsession for Post-it notes and smooth writing pens. Jennifer lives with her husband and two children, who endure listening to songs that spur inspiration on repeat and tolerate her love for all paranormal, teenage-targeted TV shows.
Find out more about her latest novel by visiting her blog:
Other ways to connect with Jennifer:
Email: Jennifersnyder04(at)gmail(dot)
com